Join us at a free presentation from the  Humanities Washington Speakers Bureau on Monday, March 20, 6 pm at the Museum of Northwest Art (MoNA).
"Not Just for Kids:  How Children's Literature Inspires Bold Conversations" features University of Washington senior lecturer Anu Taranath, who specializes in global literature, identity, race and equity.
Children's books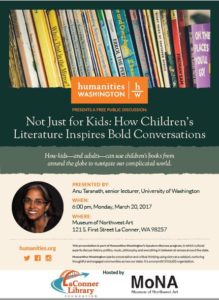 such as Curious George and Goodnight Moon are often beloved by children, sparking their imaginations and providing warmth and comfort. But books like these also inspire adults – helping us to imagine ourselves in a new way and think about society from a new perspective.
Dr. Taranath, who lives in Seattle, will showcase children's books from around the world as well as diverse communities in our country, inviting you to take a closer look at kids' books, and suggesting we adults might also learn some new lessons about how to navigate our complicated world. Within these seemingly simple stories are important messages about how we think about our differences, and  how we might rethink our similarities.
La Conner Library Foundation is pleased to co-host this program with MoNA. The museum is located at 121 N 1st st, La Conner.