Discover the fascinating work that can result when two di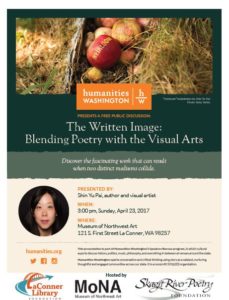 stinct mediums collide at a free Humanities Washington presentation on Sunday, April 23, 2-3 pm at the Museum of Northwest Art (MoNA) in La Conner.
Presented by Shin Yu Pai, author and visual artist, this program is hosted by MoNA, Skagit River Poetry Foundation and the La Conner Library Foundation – three nonprofit organizations based in La Conner.  We are grateful to Humanities Washington for the opportunity to bring cultural experts such as Shin Yu Pai to La Conner.